THE ARTISTS AND HOMES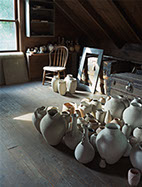 BYRDCLIFFE ARTS AND CRAFTS COLONY-
(Established in 1903 by Ralph Radcliffe artists
Jane Whitehead, John Ruskin, William Morris,
Hervey White and Bolton Brown is possibly the
oldest continuously operating arts and crafts
colony in the nation. White Pines, the main
residence and 30 other buildings were built on
1500 acres in the Catskills Mountains of New
York, just outside the hamlet of Woodstock. The
Colony produced pottery, painting, weaving,
metalwork, and furniture and now has active
artist in residence program.
http://www.woodstockguild.org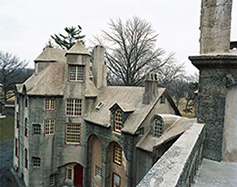 FONTHILL- The residence of Henry
Chapman Mercer (1856-1930), noted tile-maker,
archaeologist, antiquarian, artist and writer,
founder of the Moravian Pottery Works in
1910-1912 and the Mercer Museum in 1913, is
also a showcase for Mercer's own decorative
tiles, a display of tile makers' art throughout
history, and museum for Mercer's world-class
collection of prints and artifacts. With 44 rooms,
10 bathrooms, 5 bedrooms, 32 stairwells, 18
fireplaces and 21 chimneys his "castle in
concrete for the New World" is one of the most
unusual and architecturally significant homes in
America. In 1985 it was designated a National
Historic Landmark and is supported by a corps
of 40 volunteers.
http://www.mercermuseum.org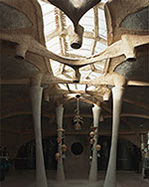 COSANTI- Paolo Soleri, (1919-2013), artist and
environmental architect, whose famous
experimental town in the high desert of Arizona
called Arcosanti is well known, his home and
ceramic studio 70 miles to the south is rarely
seen or visited. There his ceramic and bronze
windbells and siltcast architectural structures
featuring many imaginative design elements
reflect the innovative construction techniques
that make it a true work of art.
http://www.arcosanti.org
OLANA- The home of Frederic Edwin Church
(1826-1900), one of America's most important
artists, a student of Thomas Cole, and a major
figure in the Hudson River School of landscape
painting. Built high on a hill near Hudson, New
York between 1870 and 1891, called by Church
"The Center of the World," Olana's Persian style
house and 250 acres are a masterpiece as grand
as any of his paintings. It is now a New York
State Historic Site, and National Historic
Landmark, and one of the most popular tourist
destinations in the Hudson Valley and upstate
New York.
http://www.olana.org/